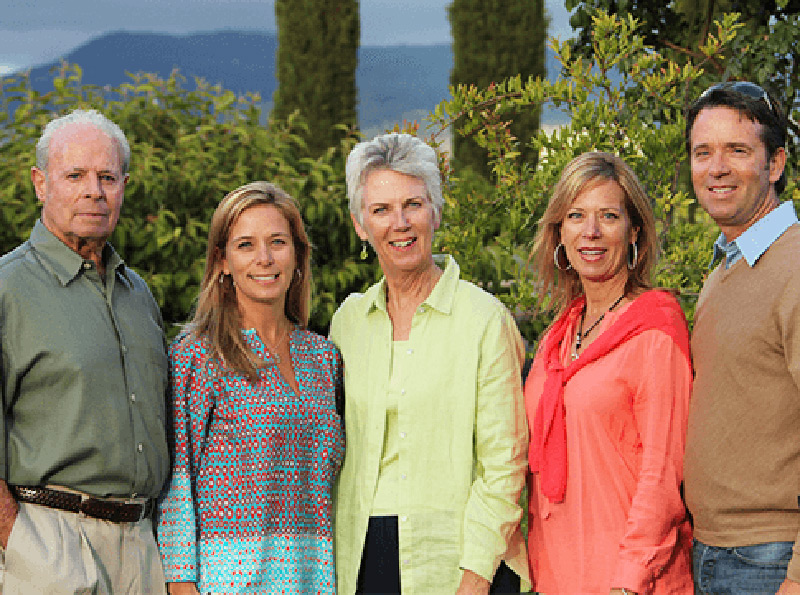 Whitehall Lane Winery Spotlight – Week Two: The Leonardini Family
"There are friends, there is family, and then there are friends that become family"
The Leonardini's are a close-knit family that have grown together in and out of the wine industry. The Leonardini name means 'little lion' in Italian. In 1985 Tom and Karen (his wife) opened Napa Valley Winery Exchange in the same location it stands today, several blocks from San Francisco's Union Square. After 3+ decades of ownership, in early 2020, the Leonardini's sold the boutique wine shop to its current owner, Rick Jones.
The Leonardini Family purchased Whitehall Lane Winery in 1993 and are still producing highly rated wines today. Today, the next generation is actively involved in running the winery, as the third generation is looking ahead to work in the wine industry as well.
Tom Leonardini, Sr. (Proprietor)
Tom enjoys drinking and making great wine. It was his interest in wine that led him to buy Whitehall Lane Winery in March of 1993. Tom was looking for a business to buy and Whitehall Lane was for sale. Knowing that the winery had premium vineyard sources and wines that were starting to turn heads (like the 1990 Morisoli Vineyard Cabernet Sauvignon and 1990 Merlot), he put an offer in on a Monday and the following week bought the winery. His words upon purchasing the winery in 1993: "This is not just a hobby. We're committed to making superior wines". This still rings true today. Tom is still an active owner today, involved in sales, marketing and production.
Tom Leonardini, II (Vice President, Distribution)
Tom Leonardini II joined the winery in 1994 and is responsible for the national and international distribution of all Whitehall Lane wines. He has been instrumental in increasing sales from 15,000 cases to almost 50,000 cases during his career. He graduated from Santa Clara University and also earned an MBA degree from the University of San Francisco with an emphasis in marketing. Prior to joining the family at Whitehall Lane, Tom entered the wine/liquor industry through a large California wine and liquor marketing company. Tom lives in Napa Valley with his wife and three children.
Katie Leonardini (Vice President, Operations)
Katie joined the family business in 2005 and now oversees all day to day operations at the winery. Katie earned her degree in Political Science at Gonzaga University in Washington. She spent several years in the financial services industry in San Francisco and Philadelphia. When she decided that California was the place to be, she headed back West and landed in Napa Valley. She's been working with her family at Whitehall Lane ever since. Katie lives with her three children in St. Helena.
For more information about Whitehall Lane and its history, please visit their website at: www.whitehalllane.com
563 St. Helena Hwy South
St. Helena, CA 94574
(707) 963-9454
Whitehall Lane Winter 2020 Wine-Pack Offers:
PRICE INCLUDES SHIPPING
Whitehall Lane Holiday 2-Pack ($94.95)
This pair from Whitehall Lane makes a great gift (or treat for yourself)! This offering includes one bottle each of Napa Valley Cabernet Sauvignon and Carneros Chardonnay.
Whitehall Lane Holiday 3-Pack ($124.95)
This trio from Whitehall Lane is a perfect match for all kinds of holiday fare! This offering includes one bottle each of Napa Valley Cabernet Sauvignon and Merlot, and Carneros Chardonnay.
Whitehall Lane Holiday 4-Pack ($139.95)
This mix of wines from Whitehall Lane has something for everyone at your holiday table. This offer features one bottle each of Napa Valley Cabernet Sauvignon, Merlot, and Sauvignon Blanc, and Carneros Chardonnay.
*Individual Whitehall Lane bottles available for purchase via nvwe.com as well*